Product detail
PA-B Series Regulaterd Powersupply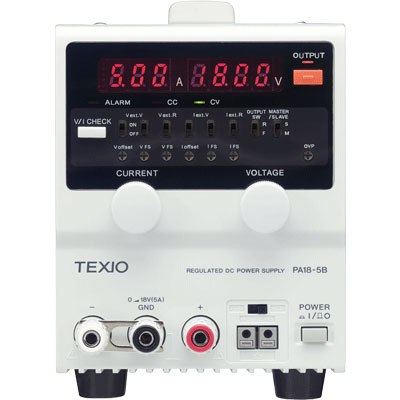 PA-B Series
on sale
A wide range of series and lineup, the experimental course, available use in a system and production and a wide range of scenes.
10V,18V,36V,80V,120V,160V,250V,350V,600V

External remote control equipped with a terminal on the back, enables ON / OFF and output ON fixed output by the contact signal from the external.

In addition, external voltage, an external resistor, can be the output voltage and output current to the remote control.

In addition equipped with the adjustment for the volume at the time of external control on the front panel, you can adjust the offset and full-scale.
Specification
● Low ripple, low noise
● Digital display of voltage and current at the same time
● Series/parallel operation
● Floating output/voltage remote sensing terminal
● External analog control
● Monitor output
● EIA rack size
● Option: GP-IB Adapter (GP-600B and OP-18-PAB)
● PA18-1.2B/PA18-2B/PA36-1.2B:without handle.With handle model:PA18-1.2BVT/PA18-2BVT/PA36-1.2BVT
Rating
Model
Output
Ripple
Line
regulation
Load
regulation
Dimensions
W×H×D(mm)
Max. dimensions
W×H×D(mm)
Power
consumption
W/VA(approx.)
Weight
(approx.)
Range
CV
CC
CV
CC
CV
CC
mVrms
mArms
mV
mA
mV
mA
PA10-5B
0V-10V/
0A-5A
0.5
5
1
2
5
5
104×124×350
106.2×144.3×368.3
120W/
150VA
6.6kg
PA18-1.2B
0V-18V/
0A-1.2A
0.5
1
1
2
2
5
104×124×270
106.2×144.3×368.3
50W/
60VA
4.7kg
PA18-2B
0V-18V/
0A-2A
0.5
1
1
2
2.5
5
104×124×271
106.2×144.3×368.3
75W/
100VA
4.7kg
PA18-3B
0V-18V/
0A-3A
0.5
1
1
2
3
5
104×124×350
106.2×144.3×368.3
110W/
140VA
6.6kg
PA18-5B
0V-18V/
0A-5A
0.5
5
1
2
5
5
104×124×351
106.2×144.3×368.3
165W/
210VA
6.6kg
PA36-1.2B
0V-36V/
0A-1.2A
0.5
1
2
2
2
5
104×124×270
106.2×144.3×368.3
80W/
105VA
4.7kg
PA36-2B
0V-36V/
0A-2A
0.5
2
2
2
3
5
104×124×350
106.2×144.3×368.3
130W/
165VA
6.6kg
PA36-3B
0V-36V/
0A-3A
0.5
2
2
2
4
5
104×124×350
106.2×144.3×368.3
170W/
220VA
6.6kg
PA80-1B
0V-80V/
0A-1A
1
2
5
2
5
5
104×124×350
106.2×144.3×368.3
140W/
170VA
6.6kg
PA120-0.6B
0V-120V/
0A-0.6A
1.2
1
7
1
7
5
104×124×350
106.2×144.3×368.3
115W/
155VA
6.6kg
PA160-0.4B
0V-160V/
0A-0.4A
1.6
1
8
1
8
5
104×124×350
106.2×144.3×368.3
100W/
150VA
6.6kg
PA250-0.25B
0V-250V/
0A-0.25A
2.5
1
15
0.5
15
5
104×124×350
106.2×144.3×368.3
105W/
140VA
6.6kg
PA250-0.42B
0V-250V/
0A-0.42A
2.5
1
15
1
15
5
104×124×350
106.2×144.3×368.3
150W/
220VA
6.6kg
PA350-0.2B
0V-350V/
0A-0.2A
3.5
1
20
0.5
20
5
104×124×350
106.2×144.3×368.3
110W/
150VA
6.6kg
PA600-0.1B
0V-600V/
0A-0.1A
5
1
30
0.5
30
2.5
104×124×350
106.2×144.3×368.3
100W/
130VA
6.6kg
Related Accessories
| Type name | Content |
| --- | --- |
| OP-20GC | To secure the voltage and current settings by replace the front knob of the PA-B series. |
| GP-600B | Can be performed the setting of the voltage / current / output by connect to the analog port |
| OP-18-PAB | Connection cable between PA-B and GP-600B (1pcs) |
| RM-608J | Rack mount adaptor for JIS |
| RM-608E | Rack mount adaptor for EIA |
| RJ-608-PA | Rack mount bracket for PA-B series |