Product detail
PS-A / PS-AR Series Regulated DC Power Supplies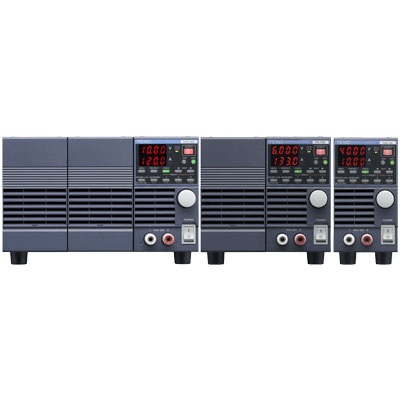 PS-A / PS-AR Series
end of production

| | PS-AR Type | PS-PS-A Type |
| --- | --- | --- |
| External analog control | N/A | Standard equipment |
| RS-232C control | IF-70RS is enclosed. * | Option (IF-70RS) |
| GP-IB control | Option (IF-70GU) | Option (IF-70GU) |
| USB control | Option (IF-70GU) | Option (IF-70GU) |
* IF-70RS enclosed to PS-AR must be installed before using PS-AR.
Specification
● Four digits LED display
The high resolution display can indicate output voltage and current and power value. Voltage and current values can be easy to set with "digit key" by selecting a digit to be changed.
● Three points preset memory function
Possible to preset three kinds of voltage and current values inside for easy reading of setting values.
● HI-R Function
This function is useful for not to discharge secondary cell, not to ungild plating and so on.
● Off timer function
Possible to turn off output automatically after a lapse of preset time.
● Controlling transient build-up current function
This function enables to control current at output on and prevents current overshoot.
● Sequence function
Stand-alone sequence operation is possible by loading maximum 1000 steps sequence program from PC into the unit through optional IF-70GU or IF-70RS interface board.
● Master slave operation
This function enable to operate plural same units in parallel up to 2400W (up to 800W for 6V series) and in series for two units.
● External analog control (PS-A type only)
The PS-A series can be controlled by external voltage or resistance for setting voltage and current values and by external contact for turning on/off output and selecting preset memory. PS-AR type dose not accommodate external analog control.
● Optional remote control interface boards
IF-70GU (GP-IB and USB), IF-71RS (RS-232C) and IF-70PS (compatible with PS series) are available.
● RS-232C standard PS-AR type
PS-AR type is included RS-232C control board. PS-AR type can connect max. 32 units and be controlled by PC. Simple and low-cost system can be provided.
Rating
Model
Output rating
Ripple
Line regulation
Load regulation
Power
consumption
W/VA(approx.)
Dimensions
type *
Weight kg
(approx.)
Voltage
(V)
Current
(A)
CV
(mVrms)
CC
(mArms)
CV
(mV)
CC
(mA)
CV
(mV)
CC
(mA)
PS6-66A/

PS6-66AR

**
0 to 6
0 to 66
10
120
8
125
11
125
630
Type Ⅰ
3.2

PS6-133A/PS6-133AR

**

0 to 6

0 to 133

10

260

8

245

11

245

1250

Type Ⅱ

5.3

PS10-40A/PS10-40AR

**

0 to 10

0 to 40

10

70

10

75

15

75

600

TypeⅢ

3.2

PS10-80A

/PS10-80AR

**
0 to 10
0 to 80
10
160
10
150
15
150
1200
Type Ⅱ
5.3

PS10-120A/PS10-120AR

**

0 to 10

0 to 120

10

220

10

225

15

225

1800

TypeⅢ

7.5

PS20-20A/PS20-20AR

**

0 to 20

0 to 20

10

40

15

41

25

41

600

Type Ⅰ

3.2

PS20-40A/PS20-40AR

**

0 to 20

0 to 40

10

92

15

82

25

82

1200

Type Ⅱ

5.3

PS20-60A/PS20-60AR

**

0 to 20

0 to 60

10

120

15

123

25

123

1800

Type Ⅲ

7.5

PS40-10A/PS40-10AR

**

0 to 40

0 to 10

10

20

23

25

41

25

600

Type Ⅰ

3.2

PS40-20A/PS40-20AR

**

0 to 40

0 to 20

10

60

23

50

41

50

1200

Type Ⅱ

5.3

PS40-30A/PS40-30AR

**

0 to 40

0 to 30

15

80

23

75

41

75

1800

Type Ⅲ

7.5

PS60-6.6A/PS60-6.6AR

**

0 to 60

0 to 6.6

10

12

35

17

65

17

550

Type Ⅰ

3.2

PS60-13.3A/

PS60-13.3AR

**
0 to 60
0 to 13.3
15
44
35
34
65
34
1100
Type Ⅱ
5.3

PS60-20A/PS60-20AR

**

0 to 60

0 to 20

20

55

35

51

65

51

1650

Type Ⅲ

7.5
* Dimensions (Max.Dimensions) W×H×D(mm)
Type Ⅰ:70×124×364
Type Ⅱ:140×124×364
Type Ⅲ:210×124×364

** Enf of sales
Related Accessories
| Type name | Content |
| --- | --- |
| HK-11 | Handle for PDS-A/PS-A Series. |
| OP-23P6 | Parallel Master/Slave Connection cable for PS-A/PDS-A Series |
| OP-23S | Series Master/Slave Connection Cable for PS-A/PDS-A Series |
| IF-70GU | GP-IB/USB Interface Option for PS-A/PDS-A Series |
| IF-71RS | RS-232C Interface Option for PS-A/PDS-A Series |
| IF-70PS | Analog Control board for PS-A/PDS-A Series |
| CB-0603S | Local bus cable (0.3m) |
| CB-0615S | Local bus cable (1.5m) |
| CB-0630S | Local bus cable (3m) |
| CB-06100S | Local bus cable (10m) |
| CB-2420P | GP-IB Cable (2m) |
| GTL-246 | USB2.0 Type A-Type B cable |
| RM-608J | Rack mount adaptor for JIS |
| RM-608E | Rack mount adaptor for EIA |
| RJ-608-1/2 | Rack mount bracket for PSF、PS-A、PDS-A、LSA-1000. |
| RJ-608-1/3 | Rack mount bracket for PS-A,PDS-A,LSA-165/165V1/330. |
| RB-608A | 1/2 Size Blank Panel |
| RB-608B | 1/3 Size Blank Plnael |
| RB-608C | 1/4 Size Blank Panel |
| RB-608D | 1/6 Size Blank Panel |
| RB-608E | 1/12 Size Blank Panel |